GDS - Hantarex



GDS-Hantarex is a leading Italian producer of digital screens dedicated to Digital Signage and all its applications which are Luxury made in Italy, with innovative integrated multimedia centre. Thanks to diversified solutions that are available in multiple configurations including LCD monitors, Indoor and Outdoor single and double-faced multimedia Totems, Videowalls in various technologies, Hantarex is able to offer personalized and highly innovative solutions that satisfy all the needs required by Digital Signage networks.
---
Professional Monitors
Indoor products
Indoor products range: conceived to fulfill any Indoor Videoinformation installation requirements and for all types of enviroment such: airports, railways, trade shows, museums, hotels, shopping centres, where IP30 compliance standard is sufficient.
Outdoor products
Outdoor products range: monitors with special cabinets, such as ANTIVANDALIC, WATERPROOF, AIR-CONDITIONED, suitable for all OUTDOOR applications, where IP54/65/66 compliance conformity is requested.
Video Walls
HANTAREX has developed and engineered sophisticated technology for modular monitors for digital video walls. This technology fulfils any possible need in the market, using large format video images, messages, publicity and information as the principle tool and fundamental method of communication with the public. To satisfy all the needs, HANTAREX offers a range of products with the maximum brightness, the smallest depths, without borders caused by frame joints and without any reflection from external light sources.
Discover Our Display Solutions for:
Digital Screen Advertising
---
LITE BRAVO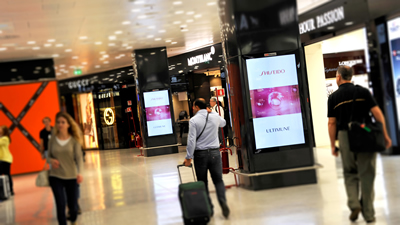 LITE Bravo is a display that can be easily built into a column or a wall, as it is designed for maximum exposure of the content displayed with minimal intrusion into public walkaway spaces. LITE Bravo is an in-wall product equipped with push&pull equipment trays to support front access for maintenance. Once this is pushed into position with the columns external coating it becomes a seamless co-planar surface, perfectly blended with the black column background. Both the display and its electronic boards are integrated into the crystal front glass that, in turn, acts as the load-bearing structure itself. Suitable for multiple digital signage installations, LITE Bravo can also be complemented with interactivity devices such as webcams and proximity sensors.
G-WALL UNB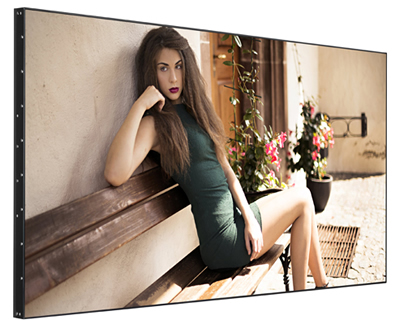 The Hantarex G-WALL family range is featured by an ultra slim bezels characteristic to create powerful and impressive video walls for every kind of applications, from retail to public information venues, control rooms, advertising areas and store-front windows. Due to its almost seamless image, the Hantarex G-WALL family video wall becomes the smartest solution to display the most impactful and outstanding Digital Signage message. It can be also quickly installed, due to its easy-click wall bracket mounting system (featuring the push and pull gesture) and is easily maintained, due to the extractable back doors, which allow a direct serviceability access to the most important critical components such as the Power Supply Unit or the Digital Board.
Retail Digital Displays
---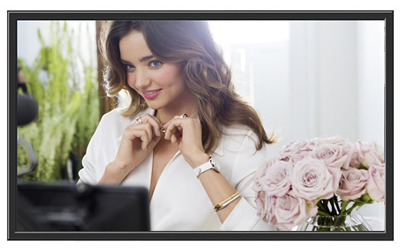 LITE
LITE series is a display range especially designed to implement public retail and advertising networked system, such as shopping malls, forefront windows and public venues.
D-LITE Hantarex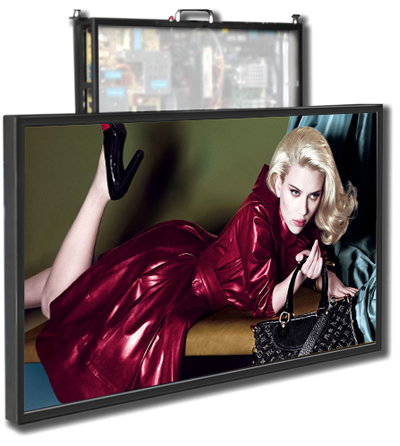 DLITE line is a display range especially designed to implement public information systems (FIDS/PIPS/GIDS) network location, such as , shopping malls, public venues, and also airports, railways, bus station, subways. Topic innovative monitor's concept is the right and correct integration between the display and the controller, by means of a LVDS direct integrated connection. By means of a dedicated special mechanical structure, the majority of parts of the displays are on site interchangeable, to allow the user to repair the display on site and to avoid the part back to service.
LITE Vivace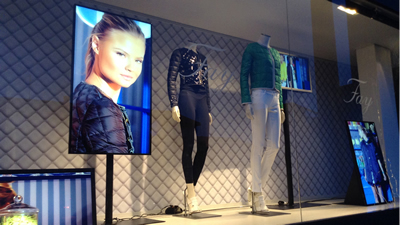 LITE Vivace is the GDS displays family dedicated for windows in stores. All LITE Vivace products are designed with the flexibility needed to deliver dynamic, timely and relevant content, and to effectively involve customers. With a brightness of up to 2000 cd/m² this display is an example of incredible high-contrast picture quality. Developed to be used in direct sunlight, the specially designed LCD panel also prevents the so called blackening defect caused by high temperatures, providing a lasting WOW factor to the contents displayed. Its stylish and thin design solution fits perfectly with most window configurations, enabling these displays to become part of the window itself.
Quick Service Restaurant Displays
---
Midas Poster
MIDAS Poster 42 is a dust and waterproof outdoor display, designed to be mounted on a wall or under a canopy. Thanks to the G+Bond optical bonding, reflections are strongly reduced, it dramatically improves the readability of the display in all light conditions.
Transportation Digital Displays range
---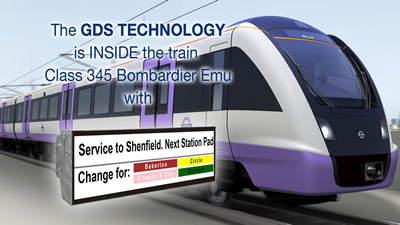 28" DISPLAY
28" display solution based on an established display product provide a proven ruggedised solution. This, together with other GDS technologies, lowers the Total Cost of Ownership (TCO) for PIS system. Enhanced contrast and improved brightness make the display easier to read and compliant with particular and restrictive requirements
D-BRAIN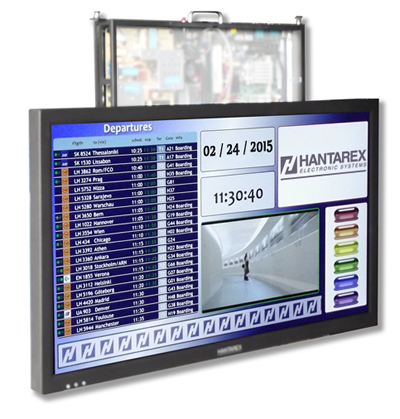 The smart display containing G+OPS, sized 32'', 42'' and 46''. Hantarex DBRAIN line is a display range designed to support Airport FIDs-PIDs-GIDs applications, delivering an unparalleled range of products, from 32'' to 46'', that provide smart and efficient solutions. The DBRAIN series doesn't just feature a standard OPS-like drawer (Open Pluggable Specification) that integrates only the PC. The 'G+OPS unit' actually contains all the components, such as the controller, RAM, power supply, main boards, cables, sensors, etc. Gas Price Signs and Advertising
Gas Station Display
---
AIRTANK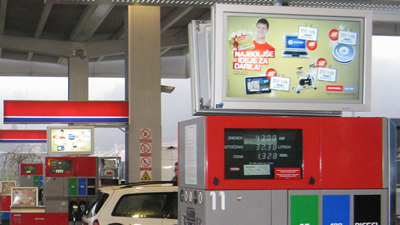 AIRTANK displays have been designed for public information applications in harsh environments, such as metro and railways, bus stations, petrol gas stations, etc.. These environments require a high protection level to avoid reliability problems generated by dust, water and humidity which can strongly reduce the lifetime and/or the device's functionalities. The AIRTANK design and structure sweep away these problems. AIRTANK has a quick access panel that allows for easy and fast replacement of internal components, with the result of an efficient maintenance, through reduction of the inspection phases, and ease of intervention. GDS-Hantarex AIRTANK displays use LCD panels designed for harsh industrial environments and are built to run 24/7.
---